LA Vegan
4507 S Centinela Ave, Los Angeles, CA 90066
Order now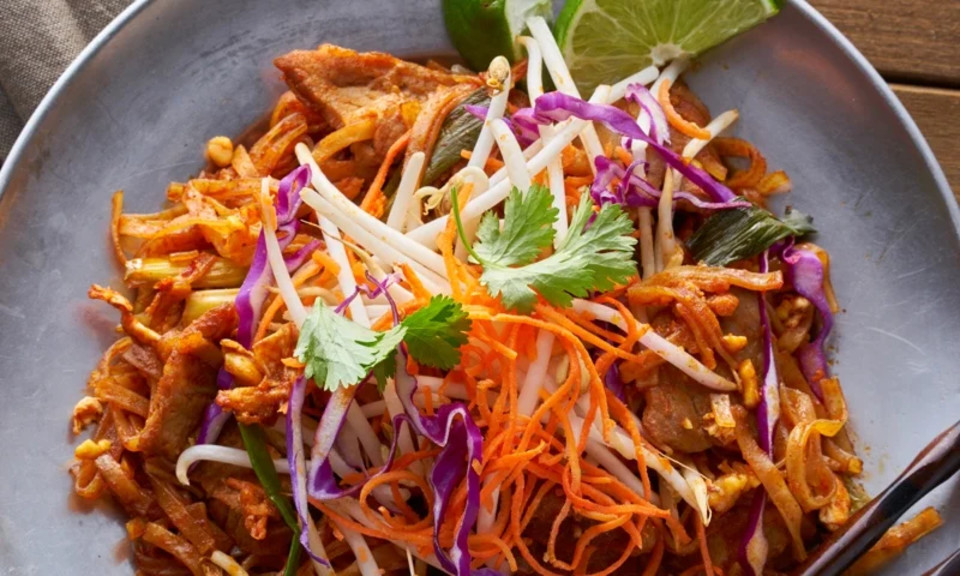 SAMMY
With exception of a new manager named John ? who was rude as FREAK when I called to ask about hot sauce ...ALMOST canceled order until spoke with a women with a lot more experience in customer service The food arrived early, was Very GOOD . Side of potatoes Soy Orange Chicken rice and a curry we have not yet tasted
It was approx. a $40 order - because of asking for hot sauce John loudly barked at me if i wanted more pay more UNBELIEVABLE
Nevertheless lady made better and food good Would recommend LA Vegan and JOHN be GONE BAD CUSTOMER Service Hurts establishment BIG TIME
Joshua
LA Vegan is simply fantastic. The Thai dishes are all great! I keep trying new things and they never disappoint. I've tried a few of the wraps/burritos/sandwiches, all really good so far, decently priced. I've never had a complaint - food is always fresh, prepared carefully, often delivered early. On one order they were missing an item, and called me to adjust the order, apologizing for the shortage and making sure I was happy with my order - top notch service!

I'll keep ordering here again and again, this place does everything right.
Avni
I don't *love* vegan food but this place was really good! I had the spring rolls, the coconut milk soup, and orange "chicken". My husband and his friend didn't even know it was fake chicken! Lol they thought it was real and loved it! Great texture and flavor, will def order from here again!!
Sam
Unbelievable, our first ever order on grub hub and everything was spot on. The food was incredible. Vegetable burrito is amazing , sweet potato fries and the garlic alioli is to die for , top work guys . Keep it up
Danielle
I have finally found a Thai food restaurant that is absolutely delicious! Everything was perfect I never want to order from another Thai food place after this. It is such a plus that is is vegan! Cheers! <3
Annette
There were some unidentifiable veg in the dumplings but they were still good and my husband loved the pad thai. Overall it was very good. Usually the dumplings have minced filling. But I will order again. LOVE your website- ordering is a breeze!!
Alexander
This place is consistently a great option with much more reasonable prices. Their large variety of vegan food is what makes this my favorite restaurant in the area. Their delivery is always on time and I have never had a problem.
RaVen
Redeemed! I ordered soup tonight. It was sooooo goooooood!!!! Highly recommend the Seaweed Rolls. Both souls were very flavorful and perfectly Hot. Coconut Soup and Lemongrass soup. With a Thai Tea ofcourse. Thank you!
Babycakes
It is an amazing restaurant I have a blog and Instagram and I'd love to do a paid partnership. My email is jasminepizarro26@gmail.com thank you for your consideration
Seth
LA Vegan is one of the best kept Vegan secrets in LA. A quaint location and pleasant atmosphere, excellent service and of course, great food! We love this place!
About us
American, Asian, Dinner, Hamburgers, Healthy, Lunch Specials, Organic, Sandwiches, Soup, Thai, Vegetarian
Today

Delivery: 11:00 AM - 10:00 PM

Takeout: 11:00 AM - 10:00 PM

Delivery

Monday:

11:00 AM - 10:00 PM

Tuesday:

11:00 AM - 10:00 PM

Wednesday:

11:00 AM - 10:00 PM

Thursday:

11:00 AM - 10:00 PM

Friday:

11:00 AM - 10:00 PM

Saturday:

11:00 AM - 10:00 PM

Sunday:

11:00 AM - 10:00 PM

Takeout

Monday:

11:00 AM - 10:00 PM

Tuesday:

11:00 AM - 10:00 PM

Wednesday:

11:00 AM - 10:00 PM

Thursday:

11:00 AM - 10:00 PM

Friday:

11:00 AM - 10:00 PM

Saturday:

11:00 AM - 10:00 PM

Sunday:

11:00 AM - 10:00 PM